Using Cultural Awareness to Strengthen the Future
This program is designed for students in grades 3-12 to introduce, increase and enhance cultural awareness through traditional African dance and music. This program has proven to spark an interest in continued studies of dance and music that helps builds the student's self esteem, confidence, coordination, discipline and social and life skills.
The Thiossane Institute caters to the overall development of young people into productive, well-rounded, respectable individuals. The participants of this program are introduced to the art form of traditional African dance and drum that serves as a vehicle to attract and invite children to participate. The program operates on the bases of traditional African values and morals that encourage academic success and social balance. The youth are given information that connects them with richness of the African American culture and it significance to their daily lives. The youth who are engaged develop disciplines through repetition that overflows into their academics and life behaviors. The participants adhere to the expectations and practice values that will equal to success throughout their lives.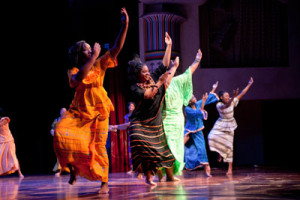 This program has graduated several students who study with local companies, participate in local performances and productions as well as nationally recognized university dance troupes and musical groups, however ,our greatest accomplishment is that, all our of participants graduate high school and pursue, attend and graduate college.
The members are invited into the company through the training program where they are immersed in the traditions of the African culture. Members adhere to set of values that govern the company and themselves (Appropriateness, Respect, Knowledge, Excellence, Adaptability and Restraint). The company is available for performance, lecture demonstrations, workshops and classes.
As Director of Thiossane Institute and mentor to these wonderful, intelligent young people, it is my unspeakable joy that dictates my continued quest to educationally and artistically, expose young people to the richness of their culture, so that they take what is good from the past, bring to the present to allow a prosperous future all while promoting self confidence ,esteem and identity and mental and physical wellness.
Ami Kounta
Armani Triplett
Cierra Coleman
Damani Wade Jr
Emmanuel Malik
Javaeh Hannah Brice
Jordan Harris
Judith Coelho
Keenan Lucas
Kendall Simpson
Keridan King
Kyla Bell
London Brazwell
Mackenzie Spain
MaKenzi Seals
Mavin Pillow
Meyah Issa Pillow
Nzeinga Head
Paige Dudley
Tamia Tirado Ludaway
Tanaya Ludaway