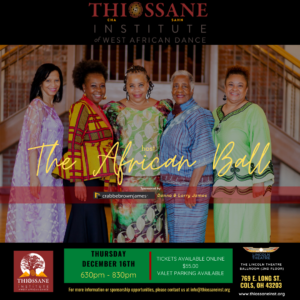 African Ball Fundraiser | December 16, 2021 @630pm | Lincoln Theatre Ballroom 2nd Floor, 769 E. Long Street, Columbus, OH 43203
Thiossane West African Dance Institute will be hosting the inaugural African Ball Fundraiser at 630p at the Lincoln Theatre.  To purchase tickets please click here. 
Sponsorships opportunities are available.  For more information please contact, info@thiossaneinst.org.
Thiossane  Institute, now in its 21st season, remains mission driven and focus on the potential and opportunities set for growth, both administratively and creatively. Needless to say, the financial health of the Institute was impacted and without performance and program generating revenue, we had to reimagine what we do well. The forecast would be bleak, if we remain in the passive aggressive state of mind, so as a result of collective forward thinking, the board of trustees will host An African Ball Fundraiser.
The African attire inspired evening of dance, music and culture is created and choreographed by the Board of Trustees. The royal atmosphere will share the community and culture of Thiossane Institute, complete with an authentic cuisine and entertainment. Your support will lead the Institute into 2022 with promise and purpose to continue fulfilling its mission.
An inherent risk of exposure to COVID-19 exists in any public place where people are present. COVID-19 is an extremely contagious disease that can lead to severe illness and death. According to the Centers for Disease Control and Prevention, senior citizens and guests with underlying medical conditions are especially vulnerable. Although the Thiossane Institute has instituted reasonable practices in an attempt to lessen or reduce the spread of COVID-19, the Thiossane Institute  cannot guarantee that you will never get exposed to the virus or get sick from it. By attending the Thiossane Institute event, you voluntarily assume all risks related to exposure to COVID-19.
Per the City of Columbus ordinance 2388-2021, you will be required to wear facial coverings or masks in indoor public spaces. The mask mandate is required for both vaccinated and unvaccinated residents.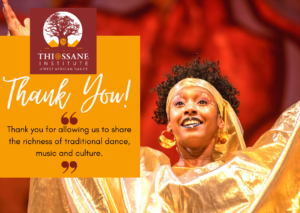 Book now!
Thank you for your support.   Stay tuned… more events coming soon!
If you wish to book Thiossane, please  contact us at dance@thiossaneinst.org