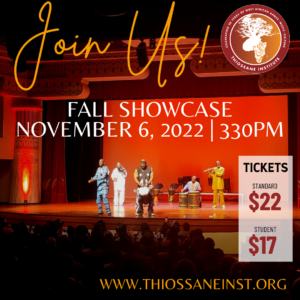 It's that time of year again for our Fall Showcase! We look forward to you joining us in person as we perform new works created by our newly appointed Assistant Artistic Director, Quianna Simpson.
Purchase your tickets here:  TICKETS
For sponsorship opportunities, please contact us at dance@thiossaneinst.org .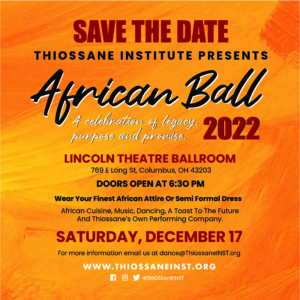 The Board of Trustees of Thiossane Institute request your presence at the The African Ball on Saturday, December 17, 2022 at 7p at the historic Lincoln Theatre Ballroom. 
22 years and counting in preserving and presenting traditional west African dance, music and culture. This certainly is a celebration of legacy, purpose and promise. Thiossane's board and performance partners will share its accomplishments and growth and what the future holds for the Institute. 
We welcome you at 630p in your finest attire be it African or semi formal dress for an evening of authentic flavor and style. The grand event at 7p will include an announcement of each guest, African cuisine, music, dancing, a toast to the future and Thiossane's own performing company. 
Tickets are available through December 3 on our website at ThiossaneINST.org under events, where you will create an account and order your tickets. $65 per person will give you an experience that is sure to bring you joy. For more information email us at dance@ThiossaneINST.org 
Leaving a legacy with your support 
Suzan Bradford Kounta 
President | Artistic Director
 Purchase your TICKETS today!
For sponsorship opportunities, please contact us at dance@thiossaneinst.org .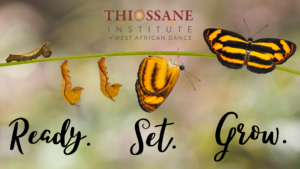 Register!
Thiossane Institute is launching a new program to enhance the quality of life for black girls in central Ohio. Through support from the Commission on Black Girls, spearheaded by former Councilwoman Priscilla Tyson and its selected advisory board, the  Ready Set G.R.O.W. (Girls Reaching Optimal Wellness) series is designed to enhance the quality of life for black girls. The program is customize specifically with measurable outcomes to both tell stories of and build statistics of success.
The program will meet up to twice weekly in (4) eight-week sessions for a total of 32 weeks in 2022. This scheduling will allow (40) girls and young women ages 11 – 22 years to complete the program. Guest speakers of various empowerment sessions will be scheduled throughout the eight weeks, along with performing arts training by professional artists that will incorporate kinesthetic learning and cultural significance. Incentives will be earned weekly. A total wellness journal will encourage documentation for individual success stories, in addition to self-esteem building workbooks. A certificate ceremony will be held culminating each session of the knowledge gained and skills acquired, and accomplishments made during participation.
Are you ready to G.R.O.W. (Girls Reaching Optimal Wellness)? Click on the links below.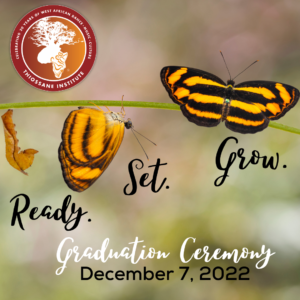 Join us as we celebrate our final cohort of the Ready Set Grow Program.  We are so proud of the accomplishments of these young black girls and hope you will join us.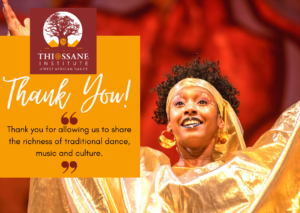 Book now!
Thank you for your support.   Stay tuned… more events coming soon!
If you wish to book Thiossane, please  contact us at dance@thiossaneinst.org